Happy Mother's Day!  Today is the day where all everyone takes some time to honor their mom and to tell her how important she is.  For this post, I decided to talk about some of the moms in the Star Wars galaxy.  Whether they were real moms, or they were mother figures, we'll see just what made them great.  Let's get started…
1. Shmi Skywalker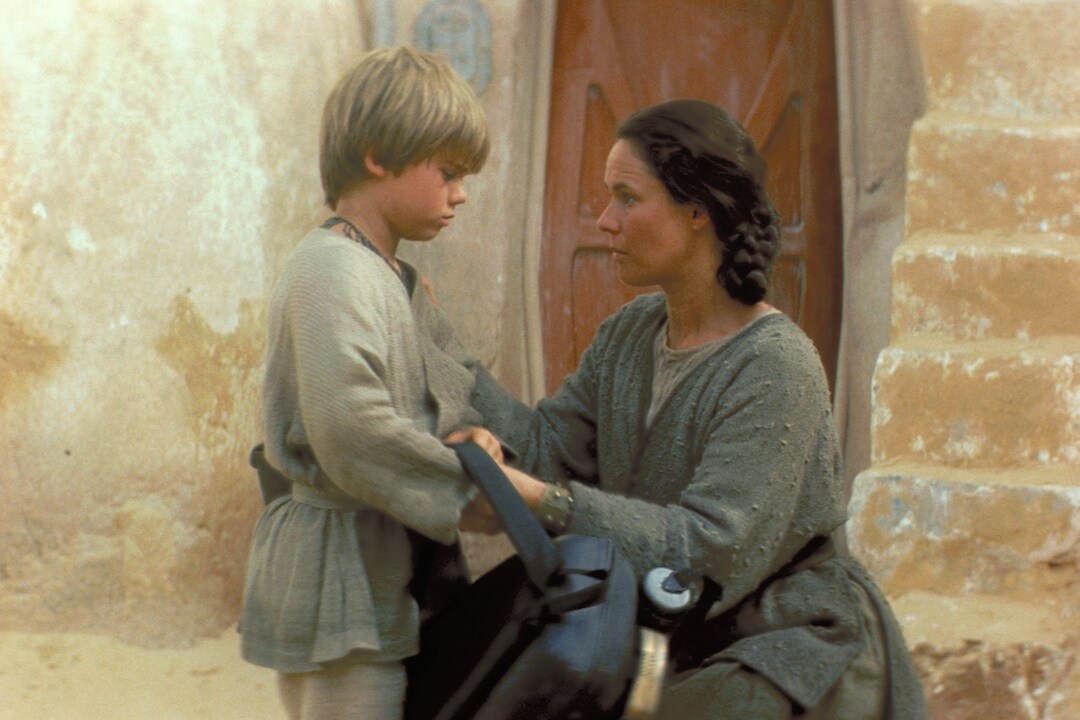 We don't know much about Shmi except that she had been a slave along with her only son, Anakin, for a very long time.  The mystery of how she had Anakin is still around, with many fan theories trying to explain it.  But putting that aside, Shmi was obviously a pretty good mom.  Everything she did was for Anakin's welfare, and he adored her.  She knew that Anakin was special, and she wished that he could have a better life.  When Anakin was freed by Jedi Master Qui-Gon-Jinn, Shmi encouraged her son to become a Jedi.  Their story doesn't end on a happy note, unfortunately, but Anakin never stopped loving her.
2. Leia Organa
I'm not to sure of what kind of mother she was with Ben Solo, so I'm going to use her relationship with her three kids from the Thrawn Trilogy, even though they're non-canon now.  Anyway, Leia is like, seriously awesome at everything, including motherhood.  She loved her kids and worked to make sure that the galaxy would be a better place for them.  She never lost hope in her oldest son, even though he succumbed to the Dark Side.  Sadly, he, along with his younger brother, both died, leaving her heartbroken.  But she still managed to keep up her work with the Rebellion with her remaining daughter.
3. Mara Jade Skywalker
Sadly, the stories of Mara Jade are no longer canon, including the ones of her and her son, Ben.  Anyway, Mara became the wife of Luke Skywalker after she turned away from the Dark Side.  She and Luke wanted children very badly, but were unable to have any due Mara's serious medical condition.  They never did lose hope, and by some miracle, they had one son; Ben Skywalker.  Mara loved Ben and made sure that he became a Jedi. Unfortunately, her motherhood was cut short when Leia's son, Jacen, fell to the Dark Side and killed her.
4. Aunt Beru
Aunt Beru has always been one of my favorite characters, even though she didn't have much screen time.  She didn't have any kids of her own, but she raised Luke Skywalker since his parents were…unavailable.  Like Shmi, Beru wanted a better life for Luke than having to stay and work on a farm.  She knew that Luke was special and like his father. But that's what worried her husband, Owen.  Owen didn't want Luke to turn out like his father, Anakin.  Luke obviously cared about Beru and Owen, and were sad when stormtroopers raided his home and murdered them.
5. Hera Syndulla
Hera may not have any children of her own, but i just had to talk about her.  In my opinion, Hera is the best mother figure of Star Wars.  She basically took an orphan, Ezra Bridger, and wayward Sabine Wren under her wing and loved them like they were her own kids.  She taught them to be a light in the galaxy, to help those in need, and, most importantly, the value of family.  That, and many other reasons, is why Hera is my favorite mother figure of Star Wars.
What do you think?  Is there any other moms you would like in Star Wars?   If so, you can let me know in the comments!  Now go spend some quality time with your mom and tell her how much you love her!
All media property of Lucasfilms